Des Moines
What's going on:
Our Des Moines Showroom has been closed.
Appointments can be scheduled in
— OR —
Contact Us:
Phone: 515-262-9511
Toll Free: 1-800-483-9511
Fax: 515-262-9790
Des Moines, Iowa 50313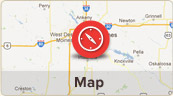 Counter Hours:
Mon-Fri: 7am - 4:30pm
Sat-Sun: Closed
Welcome to Des Moines
2018 Branch of the Year
Branch Manager - Pat Nicholson
Featured Services
Free Deliveries
We offer free delivery services at all of our branches, with 46 delivery trucks and 10 tractor trailers distributing material throughout the state of Iowa daily.
Meet Our

Staff:

Doug Phillips
Cory Cox

Direct Line 515.262.2241

ORDER ENTRY

Meet Our

Staff:

Mike Schiltz

25 years experience at Plumb Supply Company, after working for his father in the family plumbing & heating contractor business.

OPERATIONS MANAGER

Meet Our

Staff:

Chris Goulding

Dusty Sheets

Direct Line 515.299.8549

COMMERCIAL SALES GROUP
Founded in 1946, the Des Moines location is Plumb Supply's first, and houses our Corporate Headquarters. Consisting of 100,000 sq. foot of warehouse space, it is one of our three main hubs for distributing product to our 18 Iowa locations.