Mason City
What's going on:
COVID-19 Protocols

• Curbside/dockside pickup
• Showrooms by appointment
• Limited customer access
• Limited Vendor/Rep visits
• Counter days are still on hold
• Continued social distancing
• Continued cleaning vigilance
• All Plumb Supply employees are required to wear a face covering anytime they are moving thru the branch or cannot maintain a 6'distance.

Contact Us:
Phone: 641-423-0164
Fax: 641-423-0462

45 19th Street SW
Mason City, Iowa 50401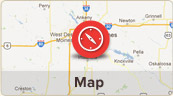 Counter Hours:
Mon-Fri: 7am - 4:30pm
Showroom Hours:
(By Appointment)
Mon-Fri: 8AM - 4PM
Sat-Sun: Closed

Welcome to Mason City
Jeff Frahm- Operations Manager
Customer Return Requests
Please fill out the RGA form and attach to the below email address to start the return process.
For Stock Return Items
For Defective Return Items
THANK YOU FOR YOUR COOPERATION
Featured Services

Commercial and HVAC Experts
Doug Taft
Brian Lukes
Meet Our

Staff:

Eric Griffen

Outside Sales

Meet Our

Staff:

Staci Gray

Office Staff

Meet Our

Staff:

Eric Mc Murray

Counter Sales

Meet Our

Staff:

Blaize Rocha

Counter Sales

Meet Our

Staff:

Richard Olson

Outside Sales
Mason City Branch was established in 1949, as the 2nd branch to open in the Company.